24th Oct – Garage Sale Trail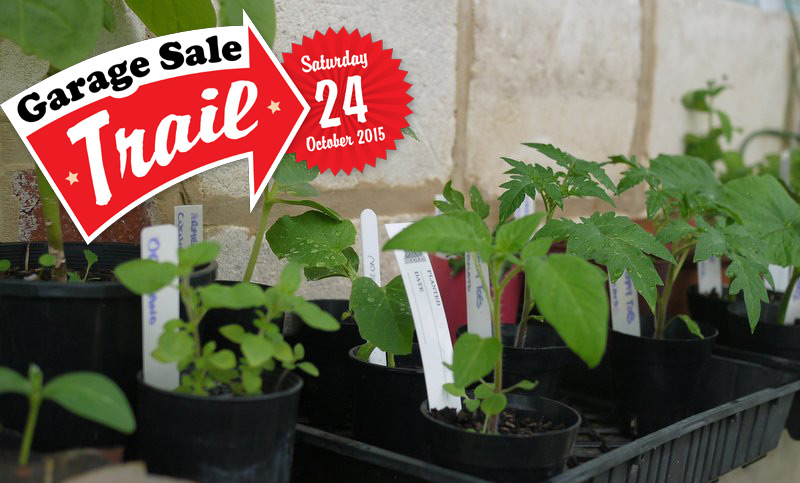 We're doing the Garage Sale Trail again this year, so come along and check out what we've got for sale.  They'll be some garage sale type items, but mostly we're putting out as much plants, produce and garden related items as possible.
The list of items we had on the day:
Produce: Asparagus, Lemons, Grapefruit, Eggs, Salad-Greens, Broadbeans, Kale, Silverbeet, plenty of herbs.
Seeds: (various, see our Seeds page).
Seedlings: Cucumbers, tomatoes, basil, herbs, kale, lettuce, sunflower, pumpkins and much more.
Plants ($1-$3) include: 
Rhubarb
Ginger for planting
Raspberry,
Strawberry
Thornless Blackberry
Comfrey
Aloevera
Liquorice
Also Apple Trees (see previous blog post), Fig, Pomegranite, Chestnut, Oak and White Cedar trees.
Herbs: Chives, Peppermint, Lavender, Creeping Chamomile, Lemonbalm
Gardening: Worm Juice / Compost Tea, Seed-Raising mix, maybe some more…
Other items:
Magazines
Kids Toys (incl Duplo)
Ropes
Clarion Car CD/Stereo
Computer bits and pieces
Some home-wares
NOTE: Our Garage sale is only being promoted through neighborhood networks and online – it's not being advertised in the papers, so we're keeping it small and local.
Here's a pic from the day:
Comments
comments