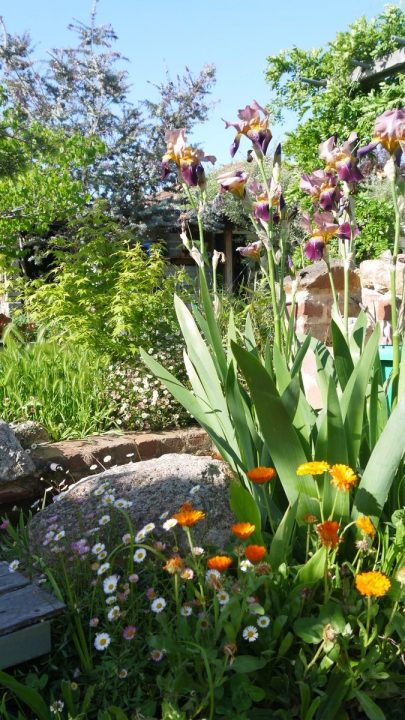 Located in Belmont, Geelong, our traditional 1/4 acre block in the suburbs has been transformed into an urban permaculture oasis…  Well, it's getting there…   🙂
Watts Permaculture is our attempt at becoming a producer, not just a consumer of food.  Living in the city, we'll never be self sufficient, but urban agriculture has many benefits.  We eat from our garden every day, but as the garden becomes more productive, our aim is to swap and trade plants and produce with neighbours and local businesses.  We also do some Permaculture Design work and raise our own seedlings and plants for sale.
Sure, it's a lot of hard work, but here are just a few of the key benefits from our permaculture system:
Eat fresh, home and organically grown food everyday.  Great for our health.
Permaculture is an extremely resource efficient means of growing food.  We take waste from the local community to help build rich soil: Coffee grounds, lawn clippings, leaf litter, food scraps etc.  Great for our plants.
We produce NO garden waste.  Everything is recycled or composted.  Even our normal rubbish bin goes out every fortnight or less.  Great for the environment (and less bin pickups saves council a little too).
For 80% of the year, we use tank water for all garden watering.  Saves our water supplies.
Surplus food is bartered or sold at affordable prices, via a box scheme, or to a local cafe.  Great for the community.
Growing food is self employment at it's most secure.  Taking back ones own means of production – reduces stress.
"What permaculturists are doing is the most important activity that any group is doing on the planet. We don't know what details of a truly sustainable future are going to be like, but we need options, we need people experimenting in all kinds of ways and permaculturists are one of the critical gangs that are doing that."
Dr David Suzuki
The drive to create and maintain such a space comes from Goshen's distorted and wacky view of the world, one in which food and energy is expensive, jobs are hard to come by, and resources strained.  Maybe this world is not here yet…  but permaculture is fun NOW!
What we do could also be described accurately as 'Urban Homesteading'.  Not quite a farm, not just a garden.
A few basic facts about us:
Land size: 1,000m2
Our 'intensive' edible production space is approximately 110m2  (2016)
'Permaculture style' plantings about another 270m2 (and growing), but we have plenty of space left!
We have a small 1.1kw solar PV system, which averaged throughout the year pretty much covers our electricity usage.
Our water tank storage is 1,400L, and our consumption of mains water is less than half the regional average – although this may increase as we grow more produce.
Also – in 2016, we expanded production into a small offsite market garden (about 60+m2)
We live in a standard brick veneer house. It's even got a black roof – how unsustainable is that!  But we still stay nice and cool on hot days, so I'm not painting it.  We have made some minor changes to the way the home uses energy – including decommissioning the central heating for a small efficient Rinnai and installing a solar heating system, extra windows and insulation – but it's not an eco-home.
A brief history:
Goshen started in business in 19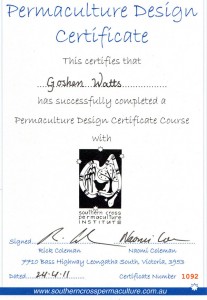 98, spending 15 years owning and managing a small retail kite store in Geelong.  Developing an interest in gardening and an awareness of the challenges our society is set to face in the next few decades led to a head-long plunge into the permaculture world.
Goshen completed a PDC (Permaculture Design course) with Rick Coleman in 2011, and quit the kite retail job in 2013 to devote himself full time to the garden (and being a stay-at-home dad, of course).
Experience and Courses attended post PDC
| | | |
| --- | --- | --- |
| May 2015 | Feb 2016 | April 2016 |
| Advanced Permaculture Design Course over 2 days with Dan Palmer from VEG. | Urban Farming Masterclass w Curtis Stone | 9 day Forest Garden Design Intensive w Dave Jacke |
| | | |
Goshen still has a small interest in kites; and since 2008, he has also been on the steering group of the local 'Transition' Group: Transition South Barwon, not to mention being the editor of the Geelong Organic Gardener's newsletter.
He's also an active rock-climber (blog post here), which has nothing to do with permaculture, but gets you out into nature, among other things.