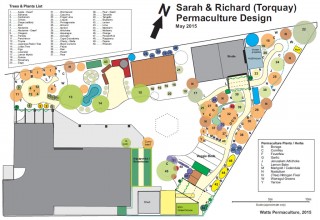 From simple edible garden design, to full permaculture designs in the Geelong area.
We can design to suit your budget and needs – it doesn't have to be a complex or expensive process for the average suburban backyard, although larger blocks and rural properties do require a bit more time to get things right.
The permaculture design itself draws together a large amount of information about the site and the clients needs & wants. In particular, we maximize the number of connections and functions in the system, and of course include as many edible plants as possible.
Consultations / Micro-Design:
If you just need some quick advice, we can offer a quite reasonably priced 'per hour' consultancy, where we come out and conduct a mini site analysis (eg "Walk and Talks") for a small fee, answer any questions you might have, and suggest ways to implement your ideas or whether a design is necessary.
We also a 'Micro Design' service which many have found useful.
---
OPTION 1: Concept Design – $350
This option is great for when you just don't know where to get started or you want some flexibility to complete details of the design when you go to implement. It includes a 3 hour consultation and allows for several hours to complete a reasonably detailed concept design and written report.
A typical process involves:
We come out and meet you, find out what your ideas and hopes are for the site, and what you want from your edible garden.
Observation: We tour the site, and create a 'concept design' based on what we observe (energy flows, soils, sun, wind, water, etc), and ideas about the sites potential and limitations.
We then draw up a detailed 'concept design' and a simple report on the site. We place some trees and elements in the system, but doesn't go into the detail of the full design.
---
OPTION 2: Detailed Permaculture Design – $600*
After completing the first consultation (as with option one) and creating the concept design, this option develops ideas into a comprehensive design and multi-page report.
The design takes into account the whole picture and the requirements / vision of the clients, and connects elements together.
Depending on your circumstances, the final report might include:
Initial concept design (bubble diagram), with site analysis for your feedback.
Detailed full design with placement of all individual elements, trees and plants.
Separate infrastructure & water detailed design
Basic plant / species with functions list.
Detailed written report on individual permaculture elements.
Time stepped guide (what to do first).
* Some larger properties (over 1/4 acre) are often quoted separately, depending on size of design and estimated amount of work required.
Optional Extras
These are design elements than can be included for any design, but cost a little extra as they take longer to design and research:
Patch Design (example coming).
Extra Detail on a particular element, eg Outdoor cooking, detailed pond / natural swimming pool design.
Detailed Pergola / Pavilion design – for max shade (summer) and sun gain (winter).
Watering systems.
---
OPTION 'G': Ask us about "Generating" Design. (…more detail to come).
For all options, you will receive a colour, A3 design, and A4 printed report delivered in person, and via email.
---
Portfolio Design 1 – Sarah and Richard
(More design examples coming soon…)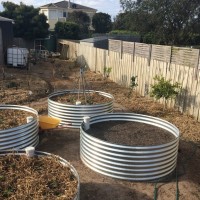 One of our first designs (click the design image above for a closer look) was for a suburban block in Torquay. Sarah and Richard (and their young family) had just moved into their new house, and wanted to transform a blank / ornamental garden into a productive veggie garden and food-forest with plenty of edible plants and shade.
When they came to implement the design, they opted for some huge 'wicking beds' as their veggie garden – not cheap, but a great way to save heaps of water over the summer, and to stop nutrients from leaching away in the poor / sandy soil.
Testimonial from Sarah:
Thanks so much for sending through the final version, it looks amazing!! We've already been talking to a neighbor who thinks he'll be able to get his bobcat in to scrape up the couch grass which will cut a lot of the initial work out, so hopefully that will be done in the next month or so and then we can start prepping the soil and putting the pathways in so we can begin planting- can't wait! …anyhow, thanks so much again, you've done an incredible job, we love the plan you've designed for us and are really looking forward to getting started. We were also really impressed at how quickly you turned it around too.