It's Garage Sale Trail time
2 Years ago, we participated in a very successful day for the national Garage Sale Trail day.
We've decided to do it again this year, and it's now over the whole weekend.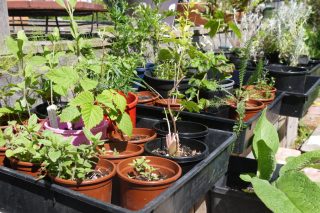 SAT 21st Oct – https://www.garagesaletrail.com.au/sale/toys-plants-permaculture
On Saturday, we're having a garage sale (along with the neighbours, and the kids are doing a lemonade stand too).  Heaps of usual sale junk, but we'll also have a range of seedlings and plants available.  See the table at the end for the list.
SUN 22nd Oct – https://www.garagesaletrail.com.au/stall/watts-permaculture
On Sunday, we're going along to Bluebird's Children's Week Market, yes, I know – a market!  We'll also have home grown and preserved produce, along with all the left over plants and seedlings.  Drop down and say hello!
Plants and Seedlings: We may not put them all out on Sat… But for readers of this blog / website; you can of course request anything on the list below and I'll put aside for you.
There are no prices listed, because they are all over the place depending on size.  But seedlings are from about 50c to $2, and plants are from $1 to around $5, with just a few priced over that.
| | | | |
| --- | --- | --- | --- |
| SEEDLINGS | APPROX QTY | SUCCULENTS, and other easy care plants | APPROX QTY |
| Lettuce | 1 | Aloe Vera | 1 |
| Mixed Greens (Lettuce, Kale, Mizuna, Dill, etc) | 5 | Chain of Hearts | 1 |
| Kale - Tuscan Black | 8 | Succulent- Crassula | 8 |
| Basil | 4 | Jelly Bean Plant | 3 |
| Capsicum Quadrato D'asti Giallo | 4 | Euforbia Tiny tim | 1 |
| Chilli Joe's Long | 3 | Cyclamen | 1 |
| Cucumber Lebanese Mini Muncher | 2 | Calla Lily | 2 |
| Cucumber Armenian | 4 | Aust Native Orchid | 1 |
| Cucumber Mini White | 6 | Fern Rabbits Foot | 2 |
| Tomato Tigerella | 3 | Fern Blue Star | 2 |
| Tomato Red & Black | 14 | Lambs Ears | 2 |
| Tomato Rogue De Marmande | 2 | Echium Heronswood Blue | 2 |
| Tomato Periforme Abruzzese | 14 | Box Hedge | 1 |
| Tomato Yellow Round | 8 | Chrysanthemum Purple | 2 |
| Zucchini Costata Romanesco | 4 | Kangaroo Paw – Yellow | 5 |
| Zucchini Dark Star | 3 | Iris – Blue | 2 |
| Pumpkin Orange Heirloom | 3 | | |
| Squash Jaune Et Verte | 1 | PERENNIALS | |
| Watermelon Sugarbaby | 7 | Asparagus | 10 |
| Rockmelon Hales Best | 10 | Strawberry | 8 |
| Shallots | 2 | Passionfruit - Black | 4 |
| | | Comfrey | 3 |
| HERBS ETC | | Raspberry | 5 |
| Oregano | 7 | Thornless Blackberry | 2 |
| Rosemary | 1 | Thornless Loganberry | 10 |
| Sage | 1 | Rhubarb | 5 |
| Creeping Chamomile | 4 | Pepino | 4 |
| Basil Mint | 2 | Curry Plant | 5 |
| Peppermint | 3 | Daisy - Seaside | 2 |
| Lemongrass | 1 | Daisy - Pink Marguerite | 1 |
| Feverfew | 1 | Tagasastie (Tree Lucern) | 2 |
| Yarrow | 1 | Eucalypt (unknown | 1 |
| Lemonbalm | 2 | Fig (Black Genoa) | 2 |
| Violets | 1 | Yacon | 3 |
| | | Cardamon | 3 |
| | | Dwarf Canna Lily | 3 |
Comments
comments